Recently, I was forced to shut down my business. After over a decade in business, July 4th signified a new kind of freedom for me: I no longer have employees and payroll to think about.
My business is was heavily impacted by rising interest rates. In case you've been marooned on Mars with Elon, rates have rocketed to levels that people under 50 have never seen. I'd worried for year about the market, gritting my teeth to lay off a great employee last year. Sadly, I had to face reality: I couldn't weather this ongoing tempest, the worst my industry has seen in 30 years.
I'd pictured what closing up shop would look like. In some ways, it excited me. New horizons! Fresh adventures!
Still, it's easy to say "oh yeah, I can see letting it go," but that's talking about cliff jumping versus standing at the top of a 30 footer eyeing the drop. Actually bidding adieu to trusted, wonderful employees I'd had for more than a decade paiiined me. Shedding the business owner identity stung.
On top of that, feelings of financial insecurity, letting people down, failure, an anxious knot yoyoing up and down on a manic elevator ride between my stomach and chest.
I'll spare you the details, but in the end, I was able to negotiate a merger with another company where all my employees were retained thanks to greater economies of scale. I've known the new owner for a decade and he's fantastic. I suspect my former team will blossom and flourish there.
My role: zero. Yup, my time in the mortgage world has ended!
Don't worry about me and Chelsea. We're adaptable and will be fine. My dad, who has the ultimate trust in my abilities, actually congratulated me when I told him the news.
That's the logistics. The emotional aspect is still settling in. I've wavered between feeling stunned and elated, scared and ok, disappointed and excited.
I'm also feeling huge gratitude for what my business allowed me and Chelsea to do over the past decade. So many opportunities. The more I reflect, shuttering it doesn't feel like a failure, more like the sunset of a phase of our lives. An off-ramp into new opportunities.
I never dreamed we'd have the litany of experiences we've enjoyed thanks to my business and traveling while I worked remotely. The escapades, the people we've met along the way (including friends I made via my business), the new appreciation for being more in control of my time. What a gift.
Oh, and I feel FREEEEEE.
After all, this business has been on my mind every.single.day since my mid-20s. I started in the trenches with daily client work, building things from scratch. From there, I hired people and moved into managing the ship. I processed payroll every two weeks for 10+ years, dealt with office leases and licensing, and put out fires as needed.
As Chelsea and I van tripped and bike traveled, I fielded emails and phone calls all over. Off the top of my head, I recall by a glacier in Iceland, on a beach in Oregon, astride a bike in the corn fields of Iowa, at midnight on my birthday in England, Christmas Eve in Belize, and at sunset on the Colorado Trail. There are oh-so-many more.
Who knows what that mental load stopped me from pursuing along the way? I'm excited to find out! Entrepreneurial energy freed up for useful, creative products like my Sprinter van door stops, an opportunity to better align my values and my business efforts moving forward. I'm intrigued by the idea of projects that create cool experiences or put me in contact with amazing people.
But FIRST, Chelsea and I are going to enjoy some adventuring without the mental load. Some time to connect and explore and traipse about without needing to be tethered to a cell signal during the week. I cannot wait to see what that feels like.
And so we take the next step forward, which of course requires a step down.
"Our next life," Glennon Doyle writes, "will always cost us this one. If we are truly alive, we are constantly losing who we just were, what we just built, what we just believed, what we just knew to be true."
Oh, and by the way, a week before the drama with my business, Chelsea and I bought… a used Airstream! Yup, we were ALREADY planning this upcoming adventure and my business shutdown merely clears jungle overgrowth from the path with a giant slash of a machete.
Scary and exciting, which in my experience often indicates something worth doing.
But that's a topic for later. Changes incoming for the Traipsing About team, folks.
Let's gooooo. Onward!
Dakota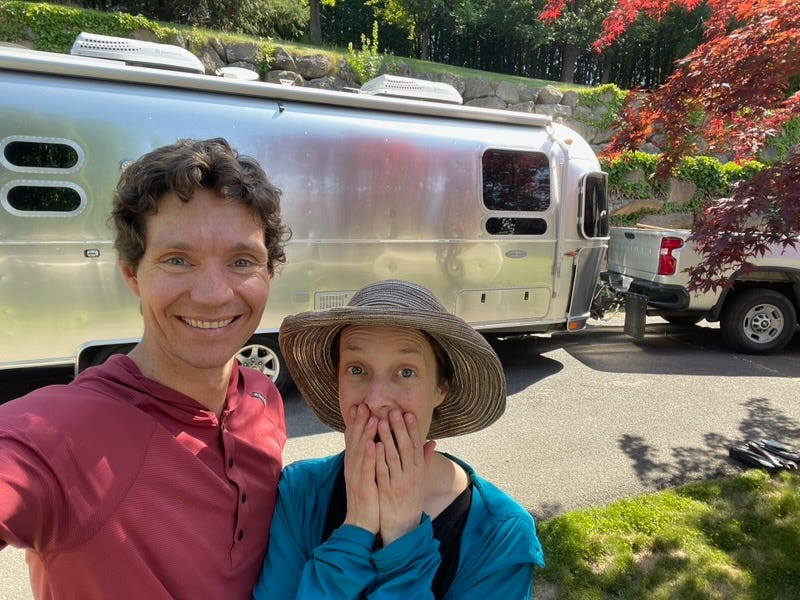 https://www.traipsingabout.com/wp-content/uploads/2023/07/GMN-scaled.jpg
768
1024
Dakota
https://www.traipsingabout.com/wp-content/uploads/2018/03/Traipsing-About-logo-white-background-450x156.png
Dakota
2023-07-27 15:05:51
2023-07-27 15:05:54
Traipsing into a new (business-free) chapter